Life Story for Richard L. ""Duke"" Stevenson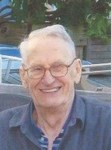 Richard L. Stevenson (Duke), 84, of Portland, Oregon, formerly of Groton, died November 28, 2014. He was born September 16, 1930, the son of the late Howard and Mildred (Fry) Stevenson. He was raised in Ithaca, NY and lived much of his adult life in Groton, NY, until moving to N. Carolina for a short time and to Portland for his last 10 years. Mr. Stevenson designed and sold roofing and flooring systems for much of his career, ending with work at Baker-Miller in Groton. He was a Naval veteran of the Korean War, and a member of the Groton School Board and Rotary.

He was pre-deceased by his parents, his wife Victoria (Zibulski), in 1988, his inlaws, Clarence and Victoria Jamarusty Hazen, his son Richard W. Stevenson, siblings Howard (Steve) and his wife Jane, and Phyllis and her husband Donald Uyeno.

He is survived by his daughters, Susan (Paul) Allen of Portland Oregon, and Kristin (Tony) DiPronio of Locke, NY; daughter in law, Debi Shannon Stevenson of Sarasota, FL., his brother George K. Stevenson of Michigan, grandchildren Shanna and Dustin Stevenson and Katrina and Wesley Allen; and several nieces and nephews.

A private service will be held at the convenience of the family. Memorial contributions may be made to your local animal rescue or ASPCA in honor of his great love for his pets.